2022 August Market View & Forecast Copy

Well into the Third Quarter of 2022, here is our review and forecast for the remainder of the year.

Active Inventory
The year began with the lowest inventory by far since 2004. With very few available homes to purchase, housing was extremely hot in the first quarter. The market changed in the second quarter as interest rates and inventory rose while buyer demand fell. Expect the inventory to continue to grow into the Fall, peak in September before declining slightly through the holiday season.


Demand
With a low inventory and continuing low mortgage rates, buyer demand was extremely strong from the start of the year through mid-March. Demand softened as buyers adjusted to increasing mortgage interest rates. Sales will continue to slow and will downshift further during the Autumn markets.


Home Values
The market regained a little balance, but it remains a slight Seller's market. With buyer competition slowing, buyers will be less willing to stretch even slightly in price compared to most recent sales; expect appreciation around 5%-8% for the year.


Closed Sales
The number of successful, closed sales will continue to drop slightly 3-5% compared to 2021.

Luxury Market
Luxury sales will fall slightly year over year and end below 2021's record level by 2-3%. The Spring Market was the strongest for luxury and will continue a bit more sluggish from Summer on.


Interest Rates
Mortgage interest rates rose significantly from 3.0% at the beginning of the year to 3.9% at the end of the first quarter and then hitting 6.2% in early June. Look for mortgage rates to fluctuate in a small range through the year, closing at or near 6% by year end.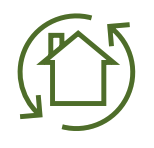 Housing Cycle
The housing market will follow a normal housing cycle. The strongest demand coupled with fresh inventory will occur peaked in late March (earlier than normal). This was followed by noticeably less demand and a continued new supply of homes through early Summer. From there, inventory will rise through the Summer and demand will drop further along until slowing in the Holiday Market.


THE BOTTOM LINE:
2022 will be a balanced market, not favoring buyers or sellers.
Price and value will be the key factors for both.