Palm Springs, California, is one of those rare places that is defined by a particular aesthetic, and the entire Coachella Valley celebrates the region's Midcentury Modern heritage. The look and style, so closely associated with the Rat Pack that a drive along Highway 111 lends itself to a Sinatra-dominated playlist, may be retro, but more fashionable today than when introduced some 75 years ago. Pushing modernism squarely into the 21st century, while complementary to the iconic Palm Springs vibe, is Imago Galleries in neighboring Palm Desert.
Located just south of El Paseo, Palm Desert's chic shopping district, is Imago Galleries, which initially appears as a sophisticated oversized residence, a sleek minimalist expression of modern architecture that suits the sparse desert landscape. Prominently showcased in a second-story corner exhibition window is a sculptural chandelier by glass master Dale Chihuly, whose vibrant tentacles make the piece particularly striking when illuminated at night. "The glass corner window was designed specifically for Chihuly's stunning 'Desert Grass Chandelier with Golden Tendrils,' which Dale custom created for the space in shades of sunlight and chartreuse, his favorite color," says Imago owner Leisa Austin of the artist's spectacular piece.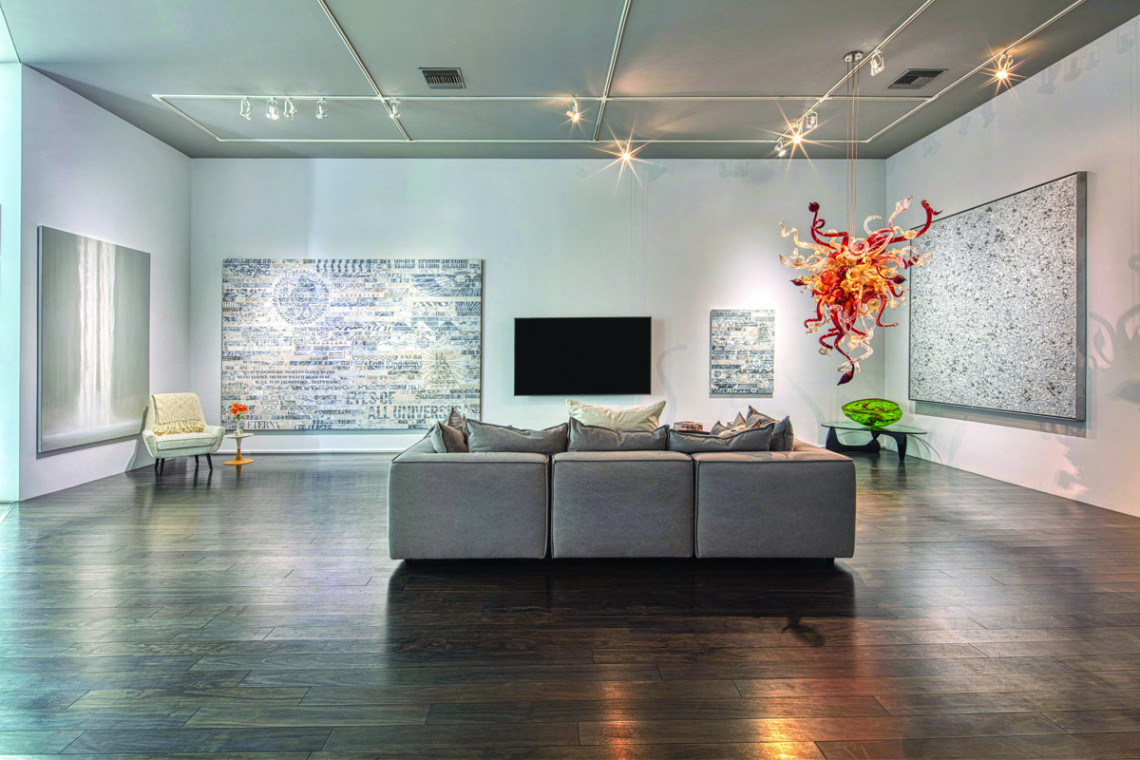 Austin is a longtime friend and advocate for Chihuly's work, and one of the most memorable exhibits at Imago Galleries was a 2017 presentation of Chihuly sculptures, fragile explosions of color displayed throughout the property, from interior galleries to the sprawling gardens and reflecting pool. "Our relationship with Chihuly dates back to 1987 and we've opened nearly 20 exhibitions with him over the last three decades," reports Austin.
Imago Galleries was founded in Palm Springs in 1991 and moved into its current 18,000-square-foot building in Palm Desert in 1999. Austin reports that imago is a Latin derivative with several meanings, but "to imagine" or "to dream" are her preferred translations. "I'm as passionate about architecture as art, with Richard Meier being at the top of my list," says Austin, who notes the renowned architect was the inspiration for the building's interior.
"I referred to the exterior style as "desert industrial," bold in scale yet subtle enough to complement the environment," says Austin, reporting it was the first contemporary project in Palm Desert. "It was sited to take advantage of the magnificent 360-degree views of the surrounding mountains, majestic palms and valley-floor lights," explains the gallery owner, who adds, "The sunsets from the second-floor terrace are exquisite."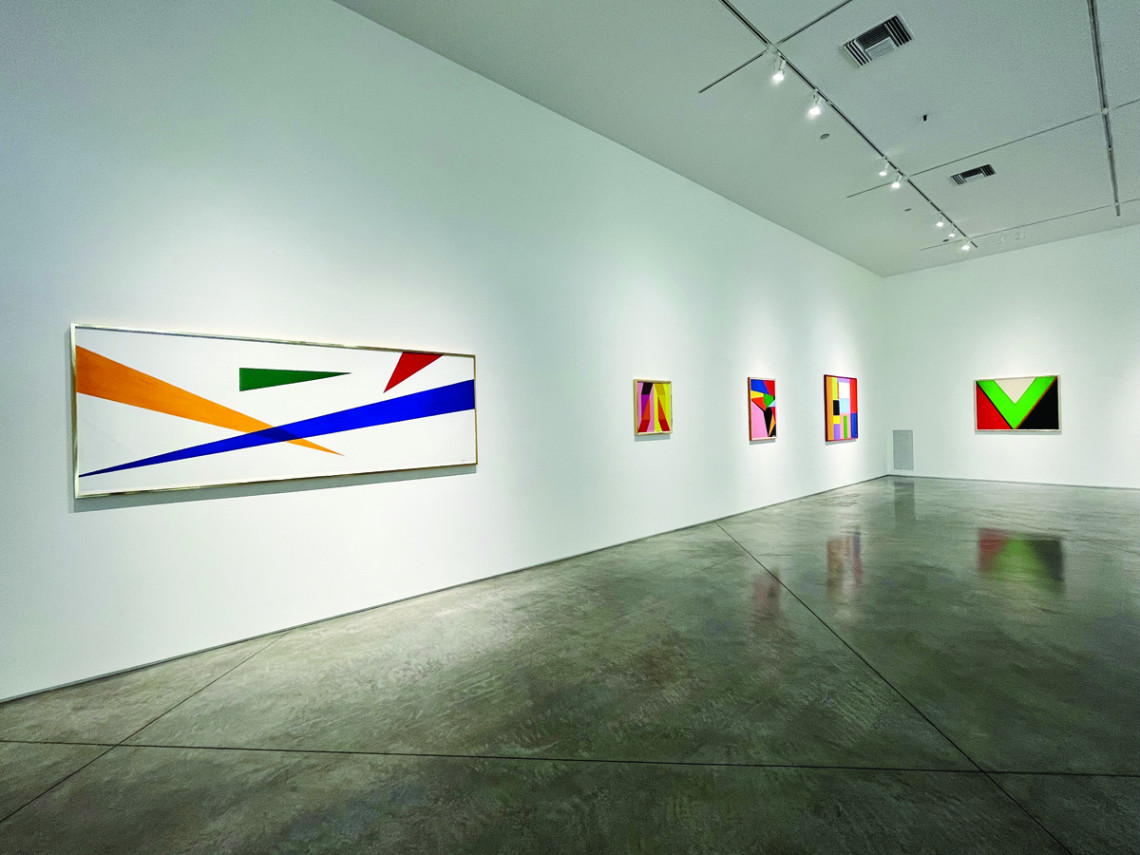 Living in the second-floor residence, Austin can enjoy those sunsets on a regular basis and, as one who brings her work home, has filled its 9,500 square feet of indoor-outdoor living space with the works of artists Ed Ruscha, James Rosenquist, Dennis Hopper, and Ed Moses. In addition to paintings and sculptures, the rooms are furnished with significant pieces, such as classic Mies van der Rohe leather-and-chrome chairs in her library, and a chandelier from Jonathan Borofsky that hangs over an Armani/Casa dining table.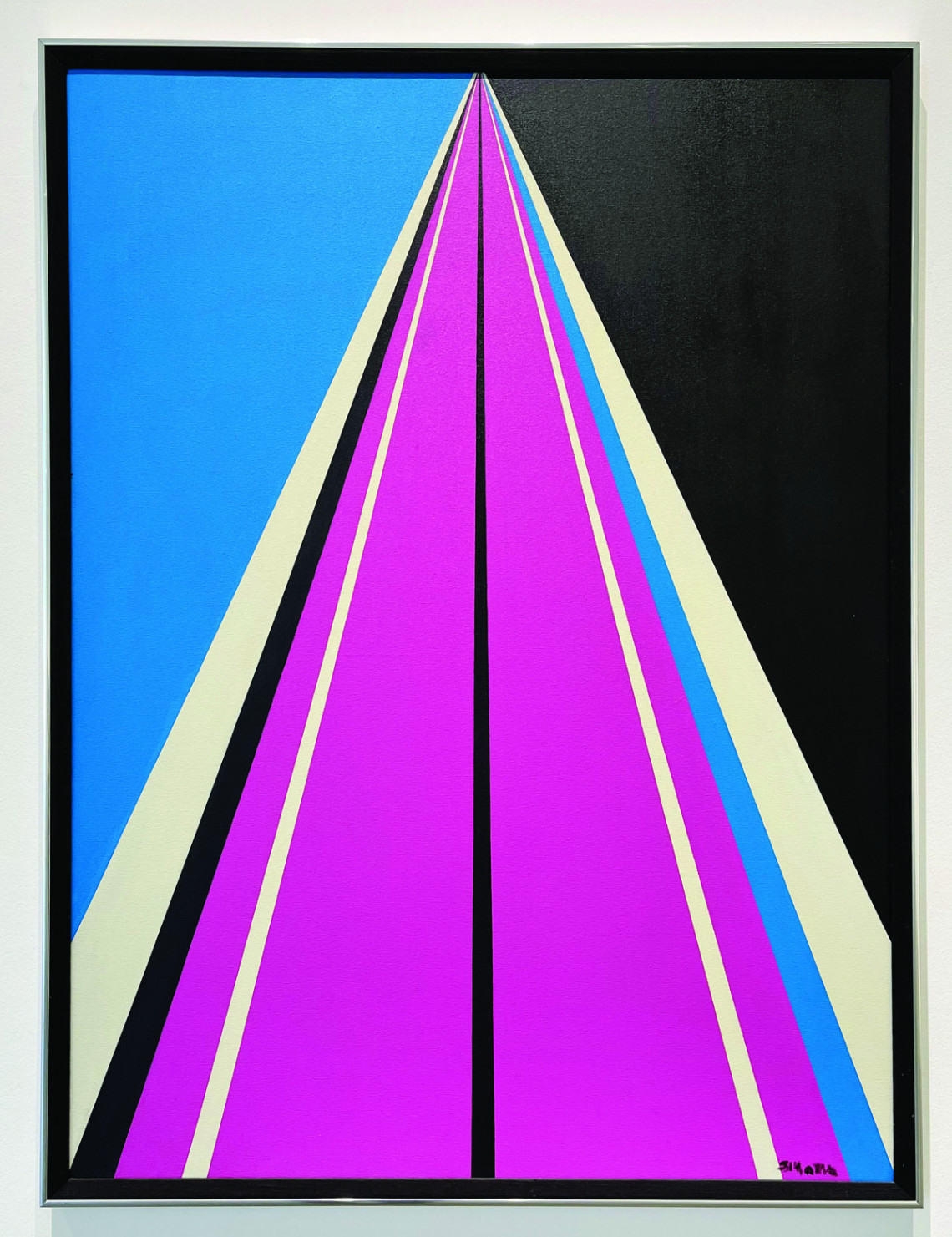 Over Imago Galleries' 30-year history, it has hosted exhibitions for renowned modern artists such as Ruscha, Tom Wesselmann, Mel Ramos, Peter Halley, Jennifer Bartlett, William Wegman, and Robert Graham, among others. Automakers like Rolls- Royce, Bentley and Porscheå appreciate the venue's aesthetics, and the stylish setting is also in demand by fashion shows, weddings and nonprofit galas.
Every February, neighboring Palm Springs celebrates its unique architectural legacy with Modernism Week, drawing designers, architecture enthusiasts and collectors from around the world. Architectural tours, seminars, film screenings, and receptions in quintessential Midcentury Modern buildings inspire both professionals and homeowners. With the exception of the celebrity-packed Coachella Valley Music & Arts Festival, nothing brings so many hip visitors to the desert as Modernism Week.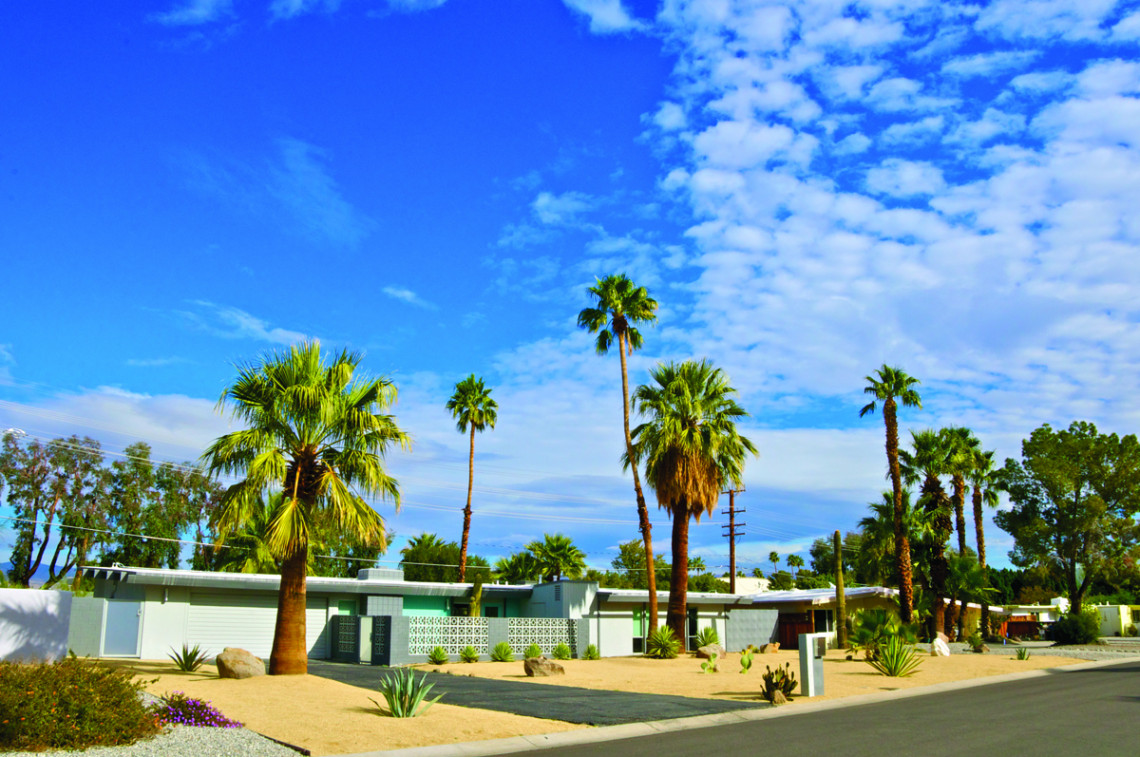 Lisa Vossler Smith, who volunteered for the inaugural event in 2006, has served as Modernism Week's executive director since 2013. Thanks to an ever-increasing commitment by local residents and organizations to celebrate their city's architectural heritage, Modernism Week has steadily grown. 2020 was a lost year for most cultural institutions, but thanks to the luck of the calendar, Modernism Week was unaffected. Because it occurred just weeks before the pandemic-induced lockdown, Smith is able to report, "In 2020 we drew a record 162,000 attendees, which made for a great 15th-anniversary celebration." After virtual events in February 2021 and limited in-person activities the following April, Smith expects healthy crowds to reconvene in the desert city on February 17-27, 2022.
In addition to a greater consciousness of architecture in our society — Smith points to the emergence of architectural tourism as a powerful driver in the hospitality industry — Modernism Week has simply become fashionable. "A big part of our growth has been the popularity of Palm Springs and the 'cool factor' the city enjoys," notes Smith, who adds, "It doesn't get much cooler than coming to the desert and staying in Frank Sinatra's house."
As it has grown, the annual event has become more inclusive, no longer constrained by the strict parameters of Midcentury Modernism. "We realize that the conversation extends beyond the midcentury era, with the work of many of the period's designers evolving," says Smith. She notes, for example, that the '70s and '80s, an era sometimes dismissed by architectural historians, resulted in the significant movements of postmodernism, brutalism and megastructures.
Modernism Week has also expanded geographically beyond the city limits of Palm Springs, and Smith reports that for the 2022 event, walking tours are being offered in the Shadow Mountain neighborhood of Palm Desert, very close to Imago Galleries. Furthermore, events are being scheduled throughout the year, including recently launched tours that provide more intimate guided excursions for architecture buffs who prefer to avoid the crowds.
Smith suggests, "Photography is how most people experience significant architecture, and although they may never see it in person, it's familiar to them from photographs and movies." Therefore, Modernism Week honors those photographers, most notably Julius Shulman, who have so gloriously captured the essence of Midcentury Modern architecture. "But in Palm Springs, people can walk the streets and take in the details in person," says Smith, referring to the city as an "accessible archive."
Smith reports that while early editions of Modernism Week tended to draw mostly baby boomers, current attendees include new or aspiring homeowners looking for inspiration, noting that pop culture hits like Mad Men have created new enthusiasts. "Clearly, there's a sense of nostalgia for the baby boomer generation, but we find younger homebuyers are also attracted by the more simplistic, minimalistic lifestyle offered by these homes," says the preservationist.
Imago Galleries' Leisa Austin has had a lifelong passion for Midcentury Modern architecture, inspired by her contractor father and some surprisingly noteworthy structures in her home state of Oklahoma. "I started acquiring mid-century furnishings in the late '80s, a collection that now includes pieces by Florence Knoll, Milo Baughman, Paul Frankl, Noguchi, Mies van der Rohe, and Le Corbusier," she explains, as well as contemporary furnishings by the likes of Philippe Starck, Armani and Pucci.
Currently exhibited at Imago Galleries, possibly through Modernism Week, is the often-overlooked, but striking abstract art of Frank Sinatra, as iconic a Midcentury Modern figure as Schindler or Neutra. "Most people don't realize he was a multifaceted individual and an extremely gifted painter," reports Austin.